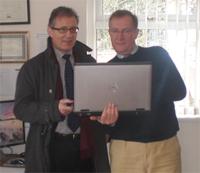 Mark Pawsey, the MP for Rugby visited a local company to find out more about a new, more cost-effective way for companies to commission bespoke software.
Meeting with Wayne Russell, Karus Systems´ managing director and the driving force behind RentUrApp™, Mark Pawsey discovered how companies can improve their efficiency through a cost-effective, bespoke software solution.
RentUrApp™ has been developed to help companies harness the power of bespoke software development. A robust, tailored piece of software can dramatically improve a company´s efficiency and consequently reduce costs.
Wayne Russell said, "This is a relatively new departure for Karus Systems but has been met with positivity from the market so far."
"We develop the bespoke software to the client´s specific requirements and they only start renting it under licence once they begin using it. Our customers have been delighted at how simple it was to get going and without any upfront costs."
"Normally, such an undertaking would involve a large development bill but RentUrApp™ presents a new way of working."
During Mark Pawsey´s visit, Wayne Russell provided a brief demonstration of RentUrApp™´s latest release, a bespoke logistic software application called PalSist™, which was commissioned for local company, Exact Logistics. The software has already saved around 130 working days per annum.
"This new system allows us to process more consignments without increasing our costs and provides complete control and visibility of shipments across Europe," said Adam Shuter, managing director of Exact Logistics. "We´re now looking at expanding the system; the company has been great to work with."
PalSist™ is just one example of the types of software Karus Systems can create under the RentUrApp™ model and is rapidly growing in popularity.
Mark Pawsey commented, "The UK is a central hub for logistics and needs more companies like Karus Systems to expand into this sector through software innovation. Logistics companies need to rely heavily on their software these days, especially as jobs become more complex and are under increasing pressure for efficiencies and ever tightening deadlines."
RentUrApp™ is developing a reputation for efficient and easy-to-use software applications that, through their unique pricing model, are cost-effective and accessible for all companies.