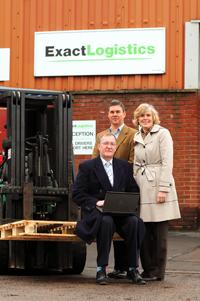 Rugby-based transport company, Exact Logistics, was finding it hard to cope with a deluge of faxes and emails from their growing international customer base. They needed to find a piece of software that would allow them to co-ordinate all that information and still ensure they were offering a world-class service.
Managing Director of Exact Logistics, Adam Shuter called in the wizards. He didn't find these wizards at Hogwarts, but just up the road at fellow Rugby-based company – Karus Systems, providers of the new RentUrApp™ platform.
The RentUrApp™ platform allows businesses to commission bespoke software development without the burden of upfront costs. Once the company is happy that the software meets their needs,
they simply rent the applications for an affordable monthly fee.
For Exact Logistics, this took the form of a software application called PalSist™. This employs a user-friendly, wizardbased system which asks a series of questions to swiftly guide users through a documentation process.
PalSist™ has been proved to save around 130 days a year through improved efficiencies. It is easy and intuitive to use and hooks directly into the international post office database.
It allows rapid data entry, automatically checks postcode and address information and sends electronic responses to customers, as well as updating information on the firm's transport control system. Adam Shuter said: "A lot of our customers are based in Germany and the whole point of PalSist™ is to serve those customers. They send information to us in all sorts of different forms; some send faxes, some send emails, some send nothing at all. We needed to have a way of being able to coordinate and collect that information, check delivery addresses and then enter
it into our operating system. That's why we rent PalSist™."
Before PalSist™, the company was manually adding information into their transport control system. As the number of customers began to grow, this became increasingly labour-intensive.
Adam said: "When we started, it was fine because it was 10, 15 pallets a week and it was easy to do manually. Now we could never do it manually, we needed a process. PalSist™ has improved our accuracy and it gives the customers good information. It confirms where we're going to deliver the pallet, when we're going to deliver it, and how much it's going to cost them."
Adam pointed out that the electronic confirmation back to customers was not something customers had asked for, but  had proved to be a very popular feature.
He said: "We've started with something that solved the problem that we had, and we've given our customers something that they weren't getting before. They didn't think they needed the automatic responses, but now they like them and can use them for checking invoices. We now need to give them something more that they don't think they need, because that's the way you keep customers coming back to you."
Working with Exact Logistics, RentUrApp™ has developed an application that can be easily applied to other distribution businesses.
Adam said: "We've worked closely with the RentUrApp™ team to create a piece of software that is very bespoke to our needs. However, we've also helped them ensure it is flexible enough to have put the development work in and we pay for it on a monthly basis. It was great to be able to specify our exact needs and not pay anything until we actually began using it and feeling the benefit of the system. The rental idea is excellent."
Adam sums up his experience working with RentUrApp™ and the PalSist™ application. He said: "Reliability has been superb. It does what it says on the tin and it works, and that's the best thing. It just hasn't let us down, ever."